Tuesday, Nov. 19
6:00 pm
Buena Vista United Methodist Church
2311 Buena Vista Ave.
Alameda, CA
Facebook event: https://www.facebook.com/events/955027111497438/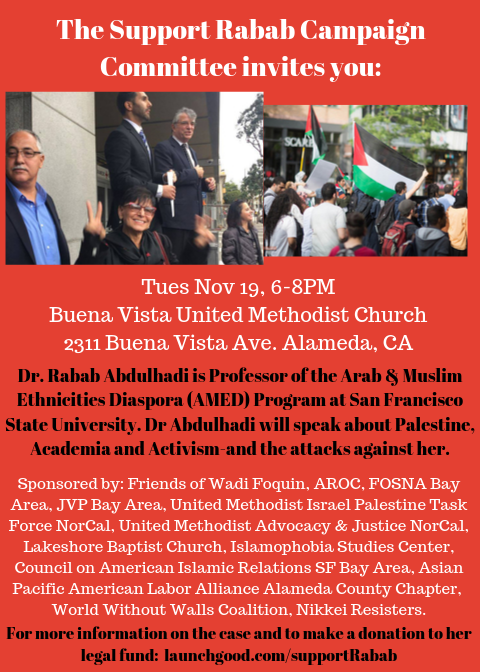 The Support Rabab Campaign Committee invites you:
Dr. Rabab Abdulhadi is Professor of the Arab & Muslim Ethnicities and Diaspora (AMED) Program at San Francisco State University. Dr. Abdulhadi will speak about Palestine, Academia and Activism- and the attacks against her.
This event is sponsored by: Friends of Wadi Foquin, AROC, FOSNA Bay Area, JVP Bay Area, MECA, United Methodist Israel Palestine Task Force NorCal, United Methodist Advocacy & Justice NorCal, Lakeshore Baptist Church, Islamophobia Studies Center, Council on American Islamic Relations-CA, Asian Pacific American Labor Alliance Alameda County Chapter, World Without Walls, Nikkei Resisters.
This event is endorsed by ISM Northern California. ISM will be at this event to support Prof. Abdulhadi. We will have freshly bottled olive oil direct from Palestine at this event!
For more information on the case and to make a donation to the legal fund, please visit http://www.launchgood.com/SupportRabab